S-Energy ES-6 | Rotary Compressor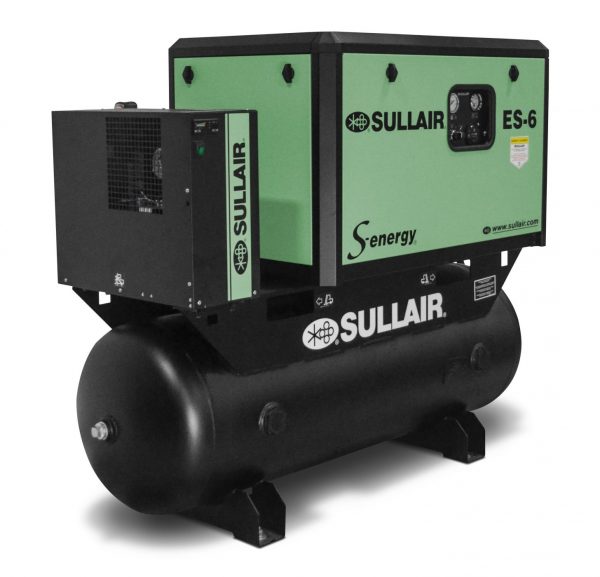 S-Energy ES-6
Versatile Rotary compressor
SUPERIOR FEATURES & BENEFITS
Sullair ES-6 S-energy® encapsulated compressors utilize design simplicity to provide exceptional reliability and extremely low maintenance.
5 – 10 HP 13 – 36 cfm, 125 – 175 psi.
Reliable Sullair Air End
Simple, compact design–40% fewer parts than conventional models
Lower maintenance costs
Encapsulated Design, Compact & Robust
Energy Efficient Design
Gauge Instrumentation Package
Legendary Sullair Air End
10-Year Air End Warranty
5-Year Warranty covering the motor, coolers, and air/fluid vessel
10,000-hour Genuine Sullube factory fill lubricant
Standard Features: TEAO motors, Full Voltage Starter, Hour Meter, NEMA 1 Electricals
Options Include Tank Mounted, Air Dryer/Prefilter Mounted on Tank, Sound Attenuated Enclosure
Check out Sullair's Reviews
Atomic Video
Ei mei aliquid constituto, ea natum contentiones eum, quot inani perpetua ad pro. Mei magna adolescens honestatis ex.
Flow
13 – 36 cfm.
36-1.01 m³/min

Pressure
125 – 175 psi
9 - 12 bar

Power
5 – 10 hp
4.8 - 9.6 kW

Benefits and Features
Superior Package Design

40% fewer parts improve reliability
Small footprint
Designed for continuous duty

Reliable Sullair Air End

Patented E-profile rotor design
Longer bearing life

Helical Design Drive Gears

Reduces thrust load
Increases bearing life

Bearing Fluid Reservoirs

Ensures fluid is available at start-up
Extends air end life

Flange-Mounted Motor and Air End

Provides positive alignment
Optimizes bearing life of air end and motor
Motor enclosure is Totally Enclosed Air Over (TEAO)
Available voltages include 200V, 230V, 460V, and 575V
Factory-filled with biodegradable Genuine Sullube® 10,000 hour fluid

Protects and cleans (no varnish)
Controls operating temperatures
Optimal viscosity
Environmentally friendly
Reduces fluid loss
High flash point (263˚C)
Models and Specs
Available models
5H—5 hp (3.7 kW), 17 acfm (.48 m³/min), 125 (9 bar)
5XH—5 hp (3.7 kW), 13 acfm (.36 m³/min), 175 (12 bar)
7.5H—7.5 hp (5.5 kW), 28 acfm (.79 m³/min), 125 (9 bar)
7.5XH—7.5 hp (5.5 kW), 20 acfm (.56 m³/min), 175 (12 bar)
10H—10 hp (7.4 kW), 36 acfm (1.01 m³/min), 125 (9 bar)
10XH—10 hp (7.4 kW), 30 acfm (.84 m³/min), 175 (12 bar)
Options
Optional Sound Enclosure

Reduces sound levels to 68 dBA
Lift out doors

PristineFG™

Meets USDA and FDA H1 requirements
Lasts up to 6000 hours
Reduces lubricant consumption
Performs in wide temperature range
Extends compressor life

Performance Air System

Receiver tank
Matched compressed air dryer
High efficiency filter