Interested in becoming a Vendor/Contractor for Atlas?
Vendor/Contractor onboarding is the process of collecting prospective vendor information, assessing vendor safety, compliance and risks, and integrating them to our platforms and supply chain.
This process is handled by the Vendor Management Team. The Vendor Management Team consists of representatives from Safety, Accounting, and Procurement.
Contact your Atlas representative to start the process of becoming a vendor/contractor for Atlas!
Already a vendor and have questions? Contact vendormgmt@atlasmachine.com.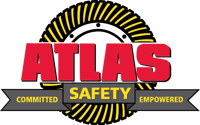 Contractor safety management is a critical component to ensuring a safe workplace. The purpose of the contractor safety program is to ensure the safety of employees, customers, and guests as contractors perform work for Atlas.
Atlas has a responsibility to ensure we acquire contract companies and vendors who have demonstrated good safety performance and adhere to regulatory requirements. Atlas is also responsible to make certain contractors are informed of hazards they may encounter while working on Atlas or Atlas customer sites and held to Atlas' safety program requirements.
The highlights of the Contractor Safety Program include:
Vetting contract companies' safety performance and insurance levels then approving or rejecting them as an approved vendor based on this data.
Requiring Atlas personnel who hire contractors to actively oversee and manage the contractor by ensuring they adhere to regulatory, Atlas, and Atlas customer safety requirements.
Requiring contractors to report all safety incidents to their Atlas contact person immediately and establish measures to prevent recurrence of other incidents.
For a contract company to be eligible as an approved contractor, working onsite at an Atlas or Atlas customer facility, they must meet certain requirements. The requirements below will be reviewed as a whole and weighted so a company may not meet one requirement but still be eligible to be placed on the approved list.
The contractor company's incident rates (total case rate and days away, restricted and transferred rate) must be at or below their Bureau of Labor Statistics (BLS) North American Industry Classification System (NAICS) incident rate averages.
The contractor company's experience modification ratio (EMR) must be 1 or less. Click here to learn more about Experience Ratings.
The contract company must not have any willful or serious OSHA citations within the last 2 years.
The contract company must not have any workplace fatalities within the past 3 years.
Insurance requirements include:

A current Certificate of Insurance on file with Atlas meeting the required levels as noted in the Contractor Safety written program. Subcontractors shall possess their own insurance and may not work under the prime contractor's insurance.
Insurance Requirements and Indemnification Agreement on file with Atlas.
Contractor Safety Resources
Click a button below to download the resource.