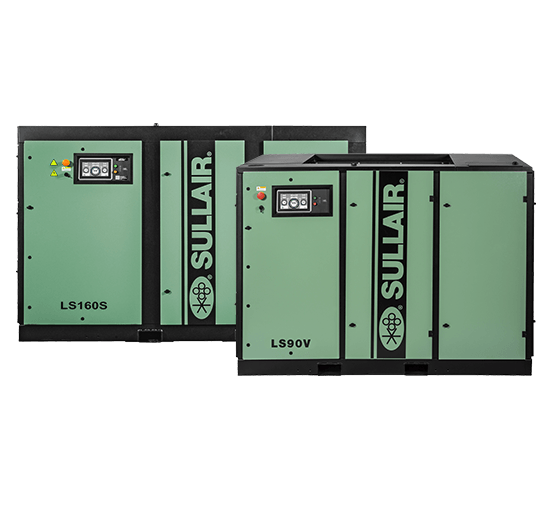 Rotary Screw Air Compressor
LS160 models now featuring increased free air delivery*!
The Sullair LS Series of Lubricated Rotary Screw compressors combine our heritage of durability and reliability while adding unprecedented ease of use and performance. Designed with a focus on precision performance, the LS series has features that perform and benefits that matter.
125 – 200 HP, 459 – 1030 cfm, 100 – 200 psig.
World-class efficiency
Less energy to power your compressors means more savings
Ease of use
Easier and more intuitive operating and servicing
Legendary Sullair Durability
Expect more uptime, for a longer time

10" Color Sullair Touch Screen Controller

Legendary Sullair Air End

10-Year Air End Warranty

5-Year Warranty covering the motor, coolers, and air/fluid vessel

Air Linx Remote Connectivity

10,000-hour Genuine Sullube factory fill lubricant
*Compared to previous models
Flow
459 - 1070 CFM.
13.0 - 30.3 m^3/min

Pressure
100 - 200 psi
7.0 - 13.8 bar

Power
125 - 200 hp
90 - 160 kW

Features and Benefits
Patent-pending Sullair Air End

Designed to be the most efficient Sullair air end ever

10" Color Sullair Touch Screen (STS) Controller

Provides easy access to all key compressor performance parameters

AirLinx®

Fast and easy monitoring from any connected device - computer, tablet or phone

Standard TEFC Motor

Offers increased protection against weather, dirt and moisture

Sullair Air-Fluid Separator
Cooling system
Genuine Sullube®

10,000-hour non-fluid protects and cleans your compressor

Wye-Delta starter
Zero loss drain
Phase monitor
Enclosure with hinged panels

Easily removable for service

Standard full base frame

Helps keep dust and debris out of the unit
Models and Specs
Available models
LS90—125 hp (90 kW), 469 to 634 acfm (13.3 to 18.0 m³/min), 110 to 175 psi (7.6 to 12 bar)
LS90S—125 hp (90 kW), 469 to 634 acfm (13.3 to 18.0 m³/min), 110 to 175 psi (7.6 to 12 bar)
LS90V—125 hp (90 kW), 459 to 625 acfm (13.0 to 17.7 m³/min), 110 to 175 psi (7.6 to 12 bar)
LS110—150 hp (110 kW), 568 to 763 acfm (16.1 to 21.6 m³/min), 110 to 175 psi (7.6 to 12 bar)
LS110S—150 hp (110 kW), 568 to 763 acfm (16.1 to 21.6 m³/min), 110 to 175 psi (7.6 to 12 bar)
LS110V—150 hp (110 kW), 559 to 743 acfm (15.8 to 21.1 m³/min), 110 to 175 psi (7.6 to 12 bar)
LS160—200 hp (160 kW), 734 to 1070 acfm (20.8 to 30.3 m³/min), 100 to 200 psi (7.0 to 13.8 bar)
LS160S—200 hp (160 kW), 734 to 1070 acfm (20.8 to 30.3 m³/min), 100 to 200 psi (7.0 to 13.8 bar)
LS160V—200 hp (160 kW), 729 to 1070 acfm (20.6 to 30.3 m³/min), 100 to 200 psi (7.0 to 13.8 bar